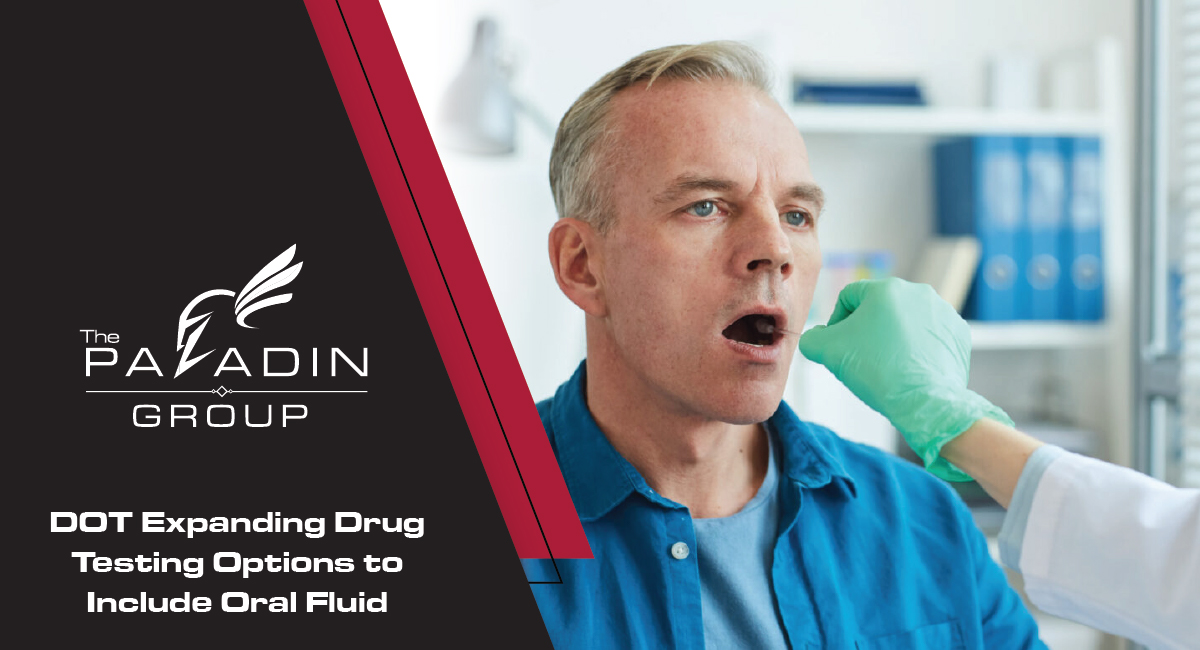 May 9, 2023 3:30 pm
This post was written by: Channing Puls
The Department of Transportation (DOT) filed a final rule that will allow oral fluid to be used as an authorized testing method for the presence of unlawful drugs. The rule will become effective June 1, 2023. Motor carriers need to be aware of the new rule and prepare for its implementation with oral fluid collectors and labs, either directly or through their service agent. Carries need to have procedures in place with their collection sites to specify what kind of collection they are wanting performed.
In order for an employer to implement oral fluid testing under DOT regulations, the United States Department of Health and Human Services will need to certify at least two laboratories for oral fluid testing, which has not currently been completed. In essence, the DOT has cleared a regulatory hurdle that allows for oral fluid testing. However, the tests have not yet been authorized until the Department of Health and Human Services makes its certifications.
In February 2023, the DOT proposed amending the transportation industries drug testing program procedure regulations to allow oral fluid testing as an alternative to urine testing. By allowing employers a choice between urine tests and oral fluid testing, employers will be able to combat employees cheating on urine drug tests and provide a less intrusive way of achieving the safety goals of the program. Among the benefits for trucking companies, the DOT said, "It's generally cheaper than urine testing." The DOT estimates the oral fluid tests will be between $10-$20 cheaper per test versus a urine analysis. The DOT also notes that by giving the option of urine and oral testing, employers can use either option depending upon the situation due to the different detection windows associated with each.
The change comes amid a significant uptick in positive drug screens in the past few years. According to recent data from the FMCSA's Drug & Alcohol Clearinghouse, there were a total of 53,693 drug/alcohol violations reported in 2020. In 2022, that number rose by nearly 30% to 69,636 violations. Marijuana remains the most common culprit for positive drug screens with over 107,000 reported cases to the Clearinghouse since 2020.
The department says, "The narrow detection window offered by oral fluid testing could give fleets a better chance at detecting recent drug usage, such as for post-accident drug testing. Oral fluid testing may provide a better indicator of an employee's recent drug use." Oral fluid testing can detect frequent usage as well. Oral fluid detection windows will be shorter than urine tests. Employers working jointly with service agents need to determine whether urine or oral fluid collection is best for their program and in what contexts.
#PaladinInsured #TheMoreYouKnow #OralFluidTesting #ThePaladinGroup
**The content provided is not intended as legal advice and should not be construed or interpreted as such. If such advice is needed, The Paladin Group recommends that you seek counsel for the specific advice or services needed.**