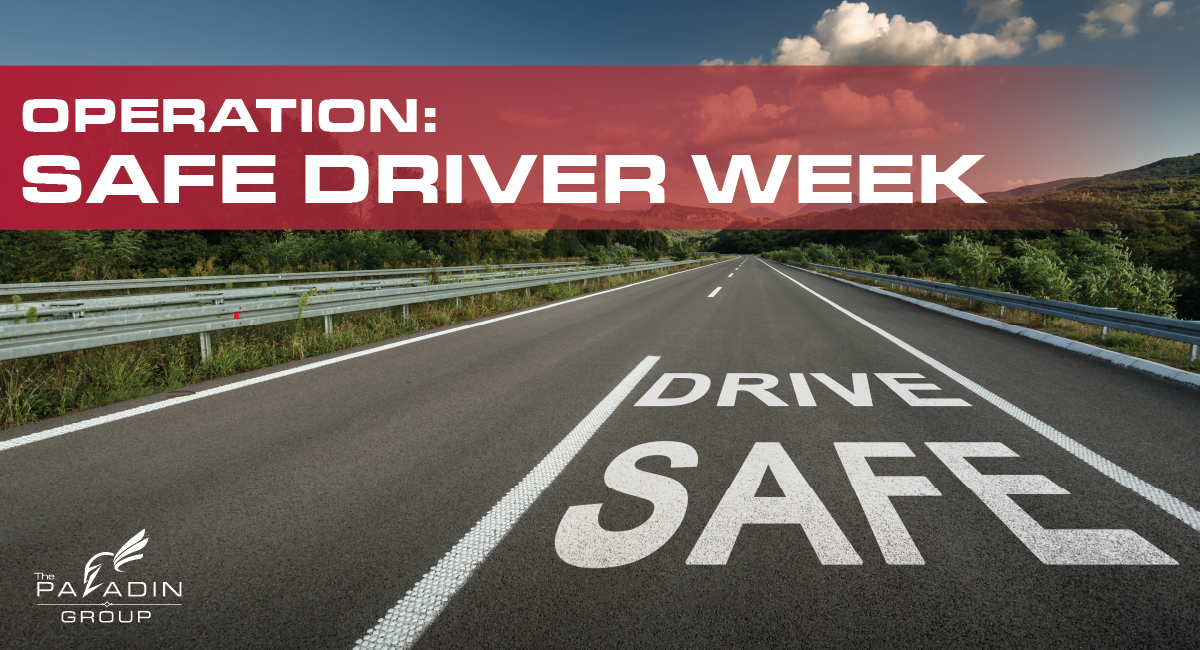 July 8, 2022 3:57 pm
This post was written by: Channing Puls
Cracking down on speeding is a top strategy for driver safety, not to mention reducing insurance premiums. In tandem with Operation Safe Driver Week and beyond, fleets can embrace best practices for discouraging speeding and encouraging safe driving.
Channing Puls, Safety Consultant, The Paladin Group
This month, U.S. law enforcement officers will actively issue warnings and citations as part of Operation Safe Driver Week, July 10-16. During last year's Operation Safe Driver Week[1], officers pulled over 28,148 commercial vehicles. Speeding was the top offense among the various dangerous driving behaviors and is also a leading cause of death for drivers. Speeding contributed to 29% of all traffic fatalities, totaling 11,258 deaths in 2020, according to the National Highway Traffic Safety Administration[2].
Consequences of speeding
Speeding not only carries fatal consequences, it can significantly impact a fleet's insurance premiums and operational expenses.
Underwriters consider Federal Motor Carrier Safety Administration (FMCSA) Behavior Analysis and Safety Improvement Categories (BASIC) scores when setting insurance rates. Speeding violations contribute to unsafe driving, one of the seven BASIC categories. The higher the safety store, the higher the premiums. The risk of litigation also increases the more tickets a fleet incurs. A study by the Compliance Safety Accountability (CSA) determined carriers with high BASIC scores have a 65% to 93% higher future crash rate than the national average.[3]
Another consequence of speeding is a significant increase in fuel consumption. Once a truck driver exceeds 60 mph, fuel starts burning at a faster rate. Now that average U.S. gas prices are at an all-time high, the direct cost of speeding is more significant. While fleet carriers will absorb the brunt of speeding-related insurance premiums and gas expenses, commercial drivers can quickly tarnish their reputation and employability with too many speeding tickets on their record. Drivers can be viewed as a liability and speeding violations can make finding a new job difficult.
Driver consequences for speeding 
The penalty imposed upon a speeding commercial driver is quite serious, and severity increases with each ticket.
    1st speeding violation. If a driver is convicted for driving 15 mph over the speed limit, the result is a ticket and a potential insurance premium hike. The driver might also be put on leave with 60 days of unpaid vacation, depending on the fleet. Speeding in a construction zone is even more serious. The fine is doubled and a fleet's safety score takes a greater hit.
    2nd speeding violation (within 3 years). The USDOT can suspend the driver's commercial driving license for 60 days.
    3rd violation (within 3 years). A 120-day out-of-service order will be levied against the driver. Further, the driver can be fined between $2,500 and $5,000 for a third offense and potentially lose his/her CDL.
Six best practices to prevent speeding
Though the following list is intuitive, the more fleets bring these issues to drivers' attention, the more likely they are to follow them.
Establish policies and procedures.
    Delineate what will happen if drivers are caught speeding.
    Every city, state, and highway has their own rules for speeding. Specify these regulations for different locations.
    Communicate these policies and procedures as part of a new hire's contract and include this information in their driver handbook.
Enforcement tactics for employee drivers. While it can be more difficult to enforce policies with independent contractors, fleets have more leverage over employee drivers.
    Consider governing trucks by setting max the speed on vehicles.
    Employ telematics. Program your driver's GPS to monitor ELD alerts. If a fleet's truck is doing 75 mph in a 55 mph zone, the fleet is notified and the operator can direct the driver to slow it down.
Plan routes so that the drivers don't need to speed. Drivers tend to speed when they wake up late, get stuck talking to someone at a truck stop, make a wrong turn, or encounter a detour. Planning ahead can take the guesswork out of the day.
Engage corrective action and positive reinforcement. Make sure the consequences of a ticket are detailed in the fleet's policies and procedures, such as unpaid time off, termination, or withholding a portion of a driver's annual or sign-on bonus. Also consider positive reinforcement to retain drivers who do a good job, i.e., quarterly, semi-annual, or annual incentives for not receiving a speeding ticket.
Talk about speeding during training/retraining. Show safety videos and promote instructional materials on speeding topics during onboarding and annual training.
Send out regular driver reminders. Send small weekly reminders highlighting best practices for drivers. These brief, but frequent reminders, can go a long way for drivers in keeping speeding top of mind.
Contact The Paladin Group for more information about promoting safe driving.
[2] U.S. Department of Transportation National Highway Traffic Safety Administration "Speeding"