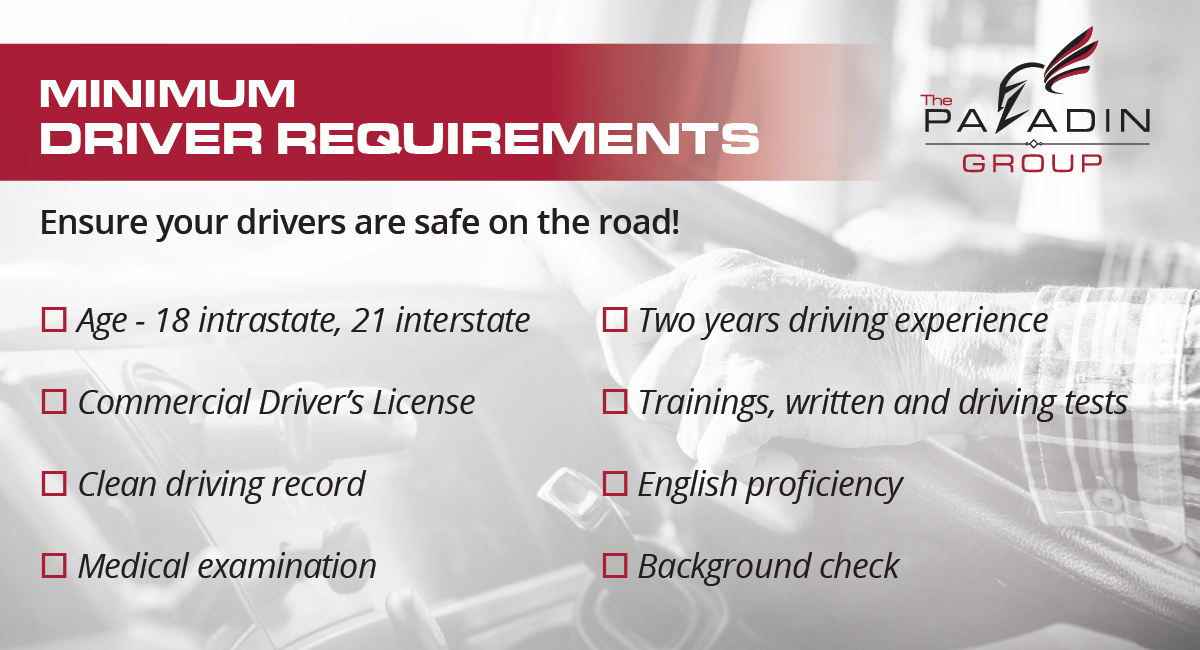 March 31, 2023 8:00 am
This post was written by: Channing Puls
The Federal Motor Carrier Safety Administration (FMCSA) has established regulations for driver qualifications to ensure the safety of commercial motor vehicle operations. Below are a few of the key requirements for driver qualification:
1. Age: A driver must be at least 21 years of age to operate a commercial motor vehicle across state lines or 18 years of age to operate intrastate.
2. Commercial Driver's License (CDL): Drivers must possess a valid CDL that is appropriate for the type of vehicle they will be operating.
3. Driving Record: The driver must have a clean driving record, not have more than one license and not have any serious traffic violations or convictions for driving under the influence (DUI) within the past three years.
4. Medical Qualifications: The driver must pass a medical examination and maintain their medical certification to ensure they are physically qualified to operate a commercial motor vehicle.
5. Experience: Drivers must have a minimum of two years of driving experience or one year of experience if they have completed an accredited driving school program.
6. Knowledge and Skills: The driver must demonstrate the knowledge and skills necessary to safely operate a commercial motor vehicle.
7. English Proficiency: Drivers must be able to read, write and speak English well enough to communicate with law enforcement, understand traffic signs/signals and complete required documentation.
8. Background Check: Drivers must be able to pass a background check, which includes employment history, driving record, criminal record and drug/alcohol testing.
Carriers must maintain driver qualification files that include all the required documentation and certifications such as medical certificates, driving records and background checks.
By following the FMCSA driver qualification requirements, carriers can ensure that their drivers are qualified to operate a commercial vehicle safely, which is essential to maintaining compliance and protecting the public's safety.
To learn more about the qualifications, visit https://csa.fmcsa.dot.gov/safetyplanner/MyFiles/Sections.aspx?ch=23&sec=66.
#PaladinInsured #TheMoreYouKnow #DriverQualifications #ThePaladinGroup
**The content provided is not intended as legal advice and should not be construed or interpreted as such. If such advice is needed, The Paladin Group recommends that you seek counsel for the specific advice or services needed.**